Escape from the ordinary into the extra ordinary. There are so many exciting things to see and to do in experiencing and exploring the wonderful world of the tropical rain forest.
Hiking along Nature Trails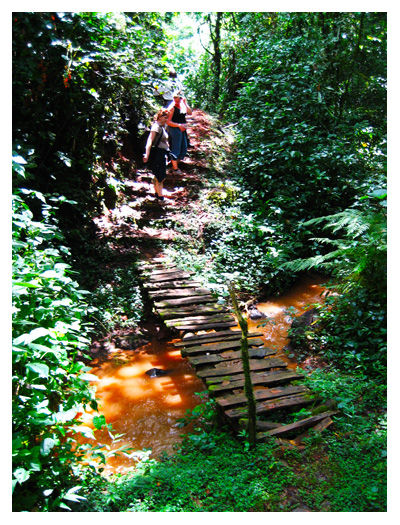 Starting with the rolling lawns and flowerbeds of Rondo's upper garden, already alive with animals and birds. Descending in the dappled light to the fish pond and paths of the lower garden with dancing butterflies before and behind. And leading out into the forest proper accompanied by a piercing cacophony, or left alone in intriguing silence never knowing what one might see around the next corner. This is one of Rondo's very own trails that runs right down to and along the Yala River.
Out in the sunshine again you can climb Lirhanda Hill (Smiling Bald Peter we call him) that rises above the forest canopy with stunning vistas of the forest and surrounding countryside.
Taking in Soaring Sights
Trees of tremendous height, great girth and massive buttresses,
hanging with lianas. A mix of lowland and highland species giving Kakamega Forest a unique variety of flora and fauna.
Flowers including 60 species of orchids and 9 are endemic (found only in Kakamega Forest). Rondo is proud to have some in its own garden. Then there are many species of herbs and ferns.
Birds - The forest is best known for its sheer abundance and diversity of birdlife. Some 367 species have been recorded. 36 of the species that occur in and around Kakamega Forest are found nowhere else in Kenya. Kakamega Forest is a "must" for any serious bird watcher.
Butterflies - There are representatives of every African family of butterflies. Some of these include the Regal and Broad Green-banded Swallowtails, the Black-tipped Diadem, the Forest Mother of Pearl, and Hobart's Red Glider, the only scarlet butterfly in the Forest. Plus the genus Charaxes which contains the fastest flying butterflies in Africa. Other interesting insects are the Goliath Beetle, Stick Insects and Fire Flies.
Animals - In addition to the monkeys already mentioned, there are Giant Forest and Flying Squirrels, mongooses, civets, servals, and genets, smaller antelope such as duikers, and numerous species of bats. The Hammer-headed Fruit Bat is endemic to Kakamega Forest, and is the largest bat on the African continent with a wing span of almost one meter and a huge head.
Guides - Well qualified local guides are available. Take Benjamin, for one, he is a walking encyclopedia and a conservation activist. A team of competent guides is available to escort you and enhance your forest excursion.

Photo Credits (Birdwatching): Duncan Butchart
VISIT, ENGAGE, FOLLOW AND REVIEW RONDO RETREAT CENTRE ON SOCIAL MEDIA.